Race Schedule
SATURDAY 18 March:
11.00am: Gates open
12.00pm 4.00pm: 2 Qualifying rounds + 1 Finals Round
NB: THIS TIMETABLE IS APPROXIMATE AND IS SUBJECT TO CHANGE DEPENDENT ON WEATHER AND NUMBER OF ENTRIES.

Entry Fees
$10 per person. You can enter and pay on the day.
Practice
The track will be open for controlled practice on Friday 20 January 2023.
There will not be any practice time available on Saturday or Sunday. This may be subject to change dependent on number of entries and time available.
2023 Championship Series
On average once a month we have a round of our GKR Championship Series. We run with lap computer lap counting and have 2 qualifying heats and finals round. Racers accumulate points through out the year towards the Championship in each class.
Classes
Kyosho Scorpion/Tomahawk/Beetle/WildOne G27
Pre 89 2wd Buggy G27

Pre 89 4wd Buggy G27

Pre 96 2wd Buggy G27

Pre 96 4wd Buggy G27

Pre 96 2wd Stock Truck G27

Lap Timing
GKR will be using LiveTime RC software and an AMB RC4 decoder (Clone transponders may not work).
Competitors are to supply their own transponders and are responsible for ensuring the details are supplied correctly and that their transponder is in working condition.
We will not be responsible for any issues with driver's personal transponders.
Please watch the video at this link to see how you should mount your transponder to minimise the chance of laps being not counted.
Marshalling
Competitors are required to marshal the race immediately following their own race, unless physically disabled or they are in back-to-back races. In these cases it is the competitor's responsibility to appoint a substitute marshal. Failure to marshal or have a substitute marshal will result in your best race result being dropped.

Pits

We encourage you to bring your own chairs, tables and/or shelter to the event. If you are from out of town please contact us and we will do the very best to arrange something for you.

We are also encouraging everyone to stay on site with this being a long event. Stay at the track, live and breath the experience and just have enough time to sleep! There is water and mains power (limited to RC use only) onsite for racers to use. There are also there will be portaloo onsite for your convenience. We also request that you please take any rubbish with you when you leave the track.
Venue
GKR Raceway 240 South Head Road, Parakai, Auckland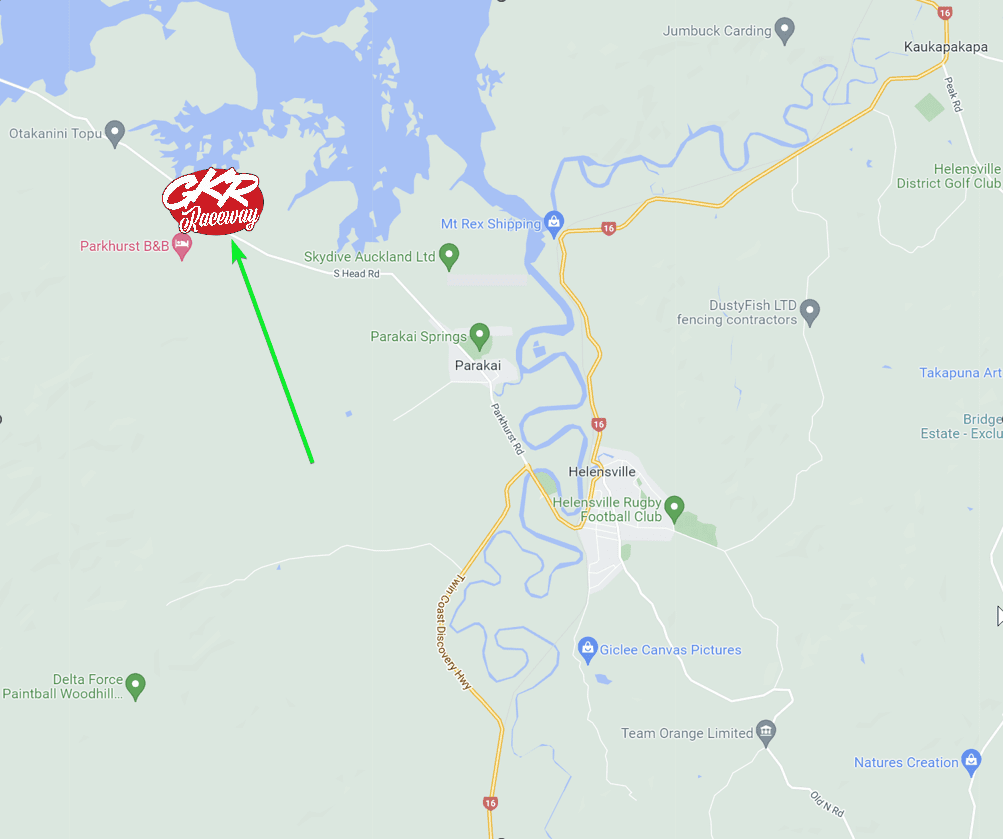 Rules
It is the driver's responsibility to ensure that their cars conform to the following rules.

1. Races will be 5 minutes in duration plus maximum of 45 seconds complete your last lap.
2. Cars are to be 1/10th scale commercially available 2wd buggy, 4wd buggy & 2wd trucks having an initial release date 1 Jan 1996.
3. Re-released kits shall be considered for entry in the same class as the original release providing the re-released design is a fair representation of the initial release. *In certain circumstances, the race director may allow a vehicle to be placed into a class which is 'most appropriate' .
The race director shall have the final decision on both the acceptability of a car, and the applicability for a class.
4. Speed Controllers – Any "Servo operated Mechanical Speed Controller" or "Electronic Speed Controller" is allowed.
5. There is no restriction on the type of servo used but no gyro mechanisms allowed.
6. Car bodies must be of commercially available origin, of an off-road buggy or truck type only. It is encouraged that driver figures be installed per original release. Wings should be installed per original release or like one that was commercially available during the period covering that class.
Bodies & chassis must not have any dangerous features i.e. spur gear covers to be fitted where appropriate; no protruding screw points etc.
7. Tires are open except for Scorpion class which has to run tires made for this car.
8. Batteries are limited to maximum of 6 Ni-Mh / Ni-Cd cells or 2S Li-Po / Li-Fe.
9. Classes offered are:
Pre 96 2wd Buggy (G27 brushed motor only)

Pre 96 4wd Buggy (G27 brushed motor only)
Pre 96 2wd Truck (G27 brushed motor only)
10. Weights - Minimum weights for a vehicle including transponder are:
2wd Buggy 1474g
4wd Buggy 1588g
2wd Truck 1700g
11. Motors - Kyosho G27 540, closed can, sealed end bell, brushed, with non-replaceable brushes and bushes. If you don't have any Kyosho G27 motors you can purchase them for $35 each or 3 for $100 as part of your entry.